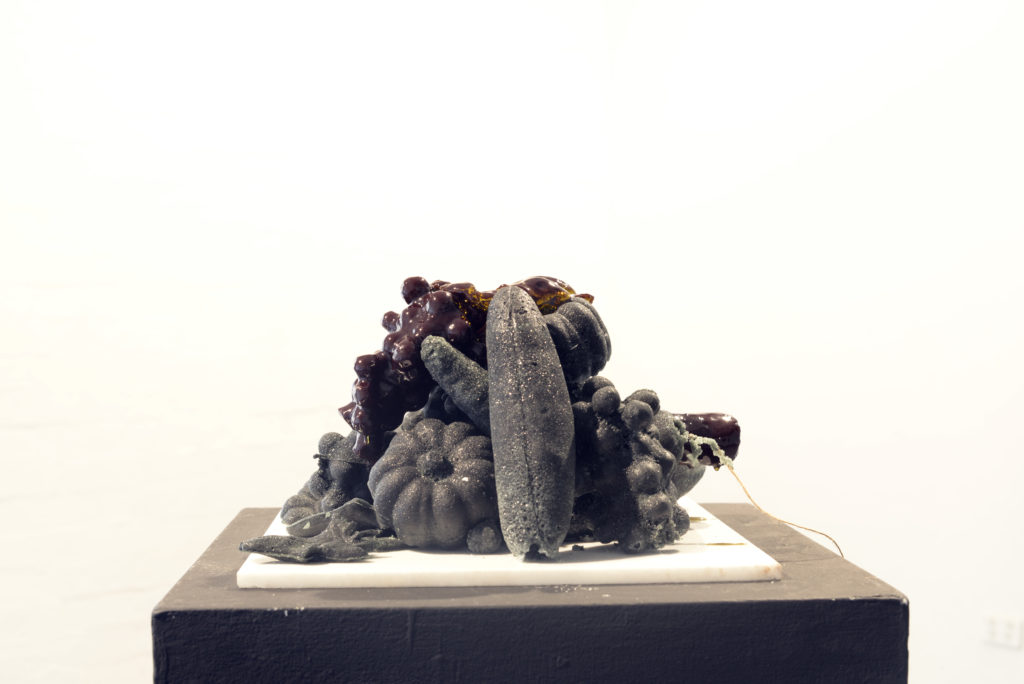 The Consequences of Success comprises three different works: a video installation, ephemeral sculptures and a site-specific work in the Food Court, Docklands. Five TV screens show manipulated and distorted landscape images. These are complemented by Zhou's depiction of fruit and vegetables: in her black toffee sculptures of five common fruit and vegetables; as well as the installation of real fruit and vegetables mounted on thin skewers inside the Food Court's window spaces.
The exhibition invites audiences to contemplate the idea of nature and Australian natural environment. It attempts to uncover the violence embedded in basic human activities of survival and environmental change;- the aftermath of distortion, melting and piercing.
Over the last two centuries, Australia's natural environment had been dramatically transformed by the human activity of 'home making'. Since the colonial period, European farming and cultivation of 'foreign' food and the construction of urban spaces has dramatically changed Australia's 'native' ecosystem and caused the extinction of many native plants and animals. Today, these native lives are promoted as the political symbols of Australian nationalism, as well as exotic commercial products for a niche market.
Zhou sends a reminder that Australia is a place made from an 'imported culture and brings awareness to the fact that very little of everyday life in Australia, including the food that we consume, originates here. She suggests that this fracture between society and the 'native' ecosystem is the cause of deep melancholy.
Facebook Event:
https://www.facebook.com/events/679507212164770/?ref_dashboard_filter=upcoming